To begin this term we have been looking at Factors and Multiples.
Factors 
The numbers that are multiplied together to get another number.
Example: 12
3 × 4 = 12, so 3 and 4 are factors of 12
Also 2 × 6 = 12, so 2 and 6 are also factors of 12,
And 1 × 12 = 12, so 1 and 12 are factors of 12 as well.
Mrs Baldwin then explained that some numbers have only 2 factors
e.g: 11
1 x 11 or 1 x 11 both = 11
The factors for 11 are 11 and 1.
This makes 11 a Prime number.
Prime number: a number that only has 2 factors (1 and itself)
Numbers that have more than 2 factors are called Composite Numbers
e.g:
8
2 x 4 = 8
1 x 8 = 8
Therefore the factors are 1,2,4,8 making a total of 4 factors
We were given a 100 chart each and we had to investigate which numbers are prime and which are composite numbers. This was challenging but we all managed to work out to at least the first 15 numbers.
As you can see there are more composite numbers than prime.
Next we looked at multiples.
Multiple
is the result of multiplying a number by another number
e.g.: multiples of 3 are 3,6,9,12,15…
multiples of 8 are 8,16,24,32,40…
Finally this week Mrs Baldwin introduced us to a game on the computer which involved practising our factors and multiples.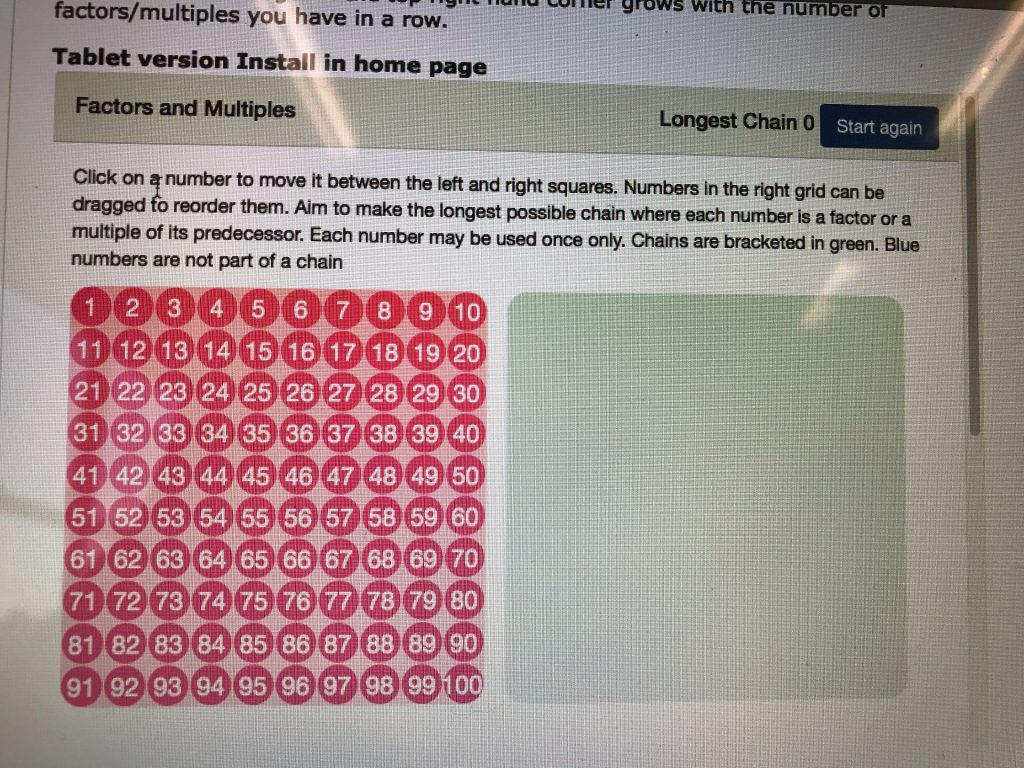 We know that some Year 7's have tried this activity so we worked really hard in small groups or individually to try and get the longest chain. One group made a chain that was over 30!
The green dots show how long our chains are! This was a lot of fun and a great game that stretched our brain muscles! Click HERE to try the game for yourself!
Can you write down one prime number and its factors and the first 4 multiples?
Can you write down one composite number and its factors and the first 4 multiples?
What did you enjoy and find challenging about the game?