Our science topic for this term is called Material World. In this topic we have been learning about:
the properties of materials and how they relate to use
how to test the properties of materials fairly and how to use this knowledge to choose materials wisely.
Which materials have desirable properties but have less impact on the environment.
We began by discussing what we thought these three scientific words meant
Object: a thing that can be seen and touched
Material: the substance of which an object is made out of.
Properties: the characteristics or feature of the material. Describing the material and what it can do.
We then looked at different pieces of clothing and discussed what the object was, what material it was made out of and the properties of the material. For example:
Object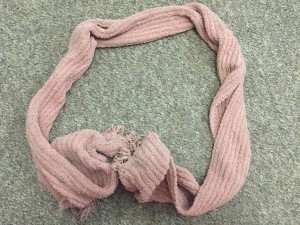 Material
wool
Properties
light
soft
keeps the heat in (warm)
We also have also begun an experiment called rot or remain? For this experiment we worked in small groups and had to place different materials such as cardboard, plastic and wool along with something organic such as an apple core and bury them all in wet soil in a container.
We then had to make predictions on which materials we that we think will rot or decompose and which materials we think will not. We also had to explain our predictions.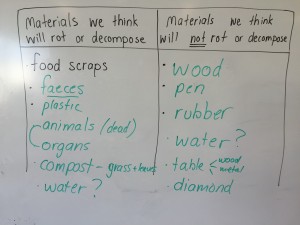 We have stored the containers out of direct sunlight or classroom lighting to avoid large differences in temperature.
We will monitor our containers daily to make sure the soil is kept moist. Then in a few weeks time we look look at our materials that are buried and discuss the results.
What did you predict will happen to your materials in this experiment?
Can you name an object, what material it is made out of and its properties.
Why do you think its important for people to think about what materials to use to make certain objects?