World Environment Day was on the 5th of June. This day encourages awareness and action for the environment to make sure we care for the world and look after it for future generations.
Each person completed a "Report Card" on either the school or class to evaluate how"green" we are.
We then completed a reflection how we could make our school or class "greener" place to be in. There were some terrific ideas written by everyone!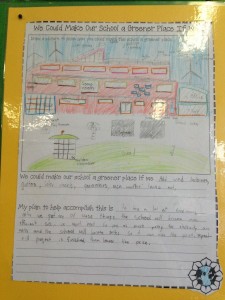 We also created a recycled Earth art piece by filling in all the white space with the appropriate colours (green for land, blue for water and a darker black or grey for the background.
To learn more about World Environment Day and what you can do to help, you can click onto the link here.
What do you think we could do to make our classroom or school a "greener" place to work in?
What do you already do at home or school to help the environment?
Why do you think it is important to look after the environment for future generations?