On the first day of Term 2, our class spent some time reflecting on our Term 1 learning goals. We asked ourselves questions about if we felt we achieved our goals and if not, what we could change to make sure we achieved them in the future.
Some students had achieved their learning goals from Term 1 and have now created two new goals. Other students have kept one or both of their goals and have changed the steps they will take to achieve them this term.
The students are looking forward to working hard this term to achieve their goals they have set for themselves. If each student follows their steps and continue to ask questions, stay focused in class and complete all tasks to their best of their abilities they will have the best chance of achieving their goals.
Here is quote below to remind us that its not always about the end result when achieving goals but the small steps of improvement we take each day! We need to remember that we should be proud of our achievements no matter how big or small they are!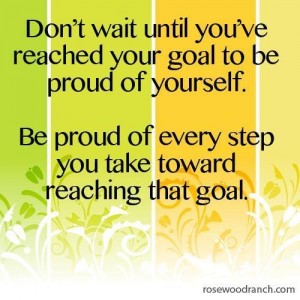 We now have our new learning goals displayed in the classroom and we will continue to review these throughout the term.
What are your two learning goals this term?
Did you achieve any of your goals last term and how did that make you feel?
What are you going to do to make sure you achieve your goals this term?