During the Daily 3 each group has been working with Mrs Baldwin on using Speech Marks.
Speech marks or quotation marks simply separate the words someone in a sentence actually says from the rest of the sentence. These words are called direct speech.
Lots of us used speech marks when writing our Mayoral Make a Books this year. We soon discovered that there were some rules about using speech marks that we didn't realise before. The main rules we have looked at are: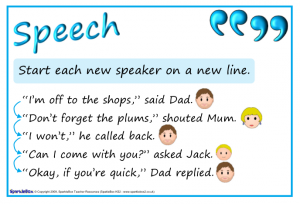 Images courtesy of sparklebox.com
Now we are noticing that in the different novels we read the authors also follow these rules. Using these rules, particularly starting a new line when a new character is speaking, helps the reader to not become confused in which character is speaking at that time.
Below are some questions that you can answer yourself!
Studyladder – Quotation Marks Activity
What did you learn about speech marks that you did not know before?
Why do you think speech marks are important to use?
Can you think of other times where quotation marks are used apart from when someone is speaking?