This week we have finally begun the Daily 3 in the classroom. The Daily 3 involves us working in groups and undertaking different activities for 20 minutes each.
The activities include:
Word Work- completing our spelling contract for the week.
Work on Writing- working in the pods and commenting on a post on our class blog.
Read to Self – finding a comfortable and relaxing place in the room to read silently.
Before we started we discussed why each of these activities are important to us. We then brainstormed the correct behaviours to have while we are doing each task. Here are the ideas we came up with:
 Read to Self
Why do we do this? 
easy to do
learn about topics
quiet
enjoyment, relaxation
help you write and spell
Students Will
sit or lay quietly
on task
not disturbing others
eyes on the book
focused
Word Work
 Why do we do this?
practise spelling
improve spelling
help with writing
help us read
for fun
 Students Will
focus on work
work calmly and quietly
follow instructions
not disturb others
Work on Writing
Why do we do this?
to help with spelling
become neat writers
help us hold our pencils
use our imaginations
it is fun
Students Will
Write appropriate ideas
eyes on the computer screen
sit in the chair and work quietly
only go onto the class blog site
try our best
respect the equipment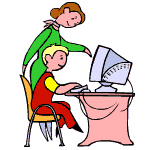 Mrs Baldwin was very impressed with how everyone worked for the first time during the Daily 3.
Which activity do you enjoy the most in the Daily 3 and why?
Why do you think it is important to practise writing and spelling?
Why do you think it is important to use the correct behaviours when completing each activity in your group?