Over the last few weeks we have been discussing the importance of reading and the reasons as to why we read. At Grange we are very lucky to have a large library that is full of a variety of fiction and non fiction books to suit everybody's ability and interests. Read about all the different activities, resources and programs we are using at school to help us with our reading!
Good Fit Book
As a class we discussed the importance of choosing a 'good fit' book. Please watch the powerpoint below that explains what it means to choose and read a 'good fit' book.
Mrs Baldwin gave everyone a bookmark to use when reading. On one side the book mark has the 'I Pick a Good Fit Book.' This stands for:
I

Choose a book.

P

urpose – why do I want to read it?

I

nterest – does it grab my attention?

C

omprehend – Do I rememebr or understand what I am reading?

K

now – I know most of the words.
The important thing to remember is to choose a book that suits your interest and that it is at your level. If we don't do this, we either become bored with the book or it is too difficult to read.
On the other side of the bookmark is the 5 finger test. This can be used as another way to assist us in choosing a book that is appropriate for our reading ability.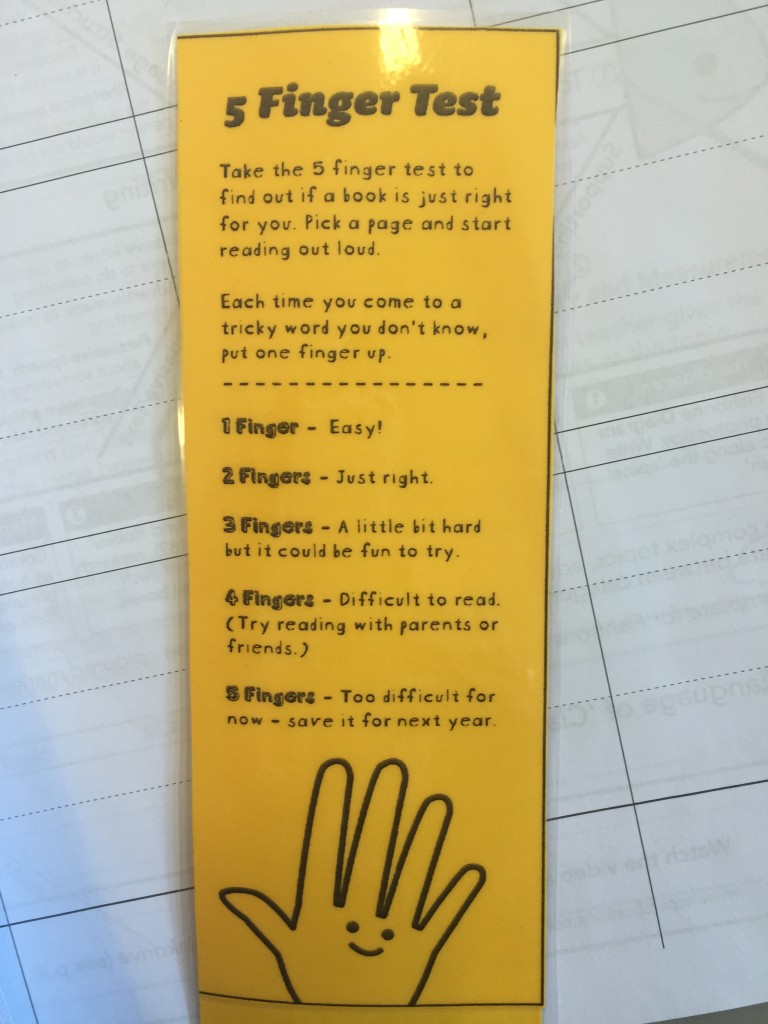 Class Library
We are also very lucky to have a large class library in our classroom which has hundreds of books that Mrs Baldwin has collected. We have enjoyed choosing books from this collection and using the 'check out' method so that we are respecting the books. Every student has borrowed at least one book from this collection so far this year!
Premiers Reading Challenge 2015
The Premiers Reading Challenge has already begun this year and we have received our forms to beginning adding any books that we read over the year that are part of the premiers reading challenge. This year our Principal Mr. Short has given Grange the challenge of having 100% participation! So far we have 3 students in our class who have already finished the form! For more information about the challenge or to find books that are part of the challenge you can head to the website: Premiers Reading Challenge
Accelerated Reader
Most of us have completed the 'Star' test so that we could get an Accelerated Reader Level. This also means that we have a point target that we can try and achieve this term. This target is based on the amount of minutes we read each day and the level we are reading. Most of us are already logging into the website to do some quizzes to gain points. This activity helps us with our comprehension and it is always exciting when we receive a certificate for our efforts. Well done to Jackson who was the first person to receive a certificate this year!
What do you enjoy most about reading?
Why do you think reading is important?
What/who is your favourite book or author and why?
Can you suggest any book titles that we can add to our class library?